Product Summary
The G2R-14-12V is a power PCB relay.
Parametrics
G2R-14-12V absolute maximum ratings: (1)Rated load, Resistive load, 10 A at 250 VAC; (2)Rated load, Inductive load; (3)Contact material: Ag-Alloy; (4)Carry current: 10 A (8A); (5)Max. operating voltage: 380 VAC, 125 VDC; (6)Max. operating current: 10 A (8A); (7)Max. switching capacity: 2,500VA, 300W; (8)Min permissible load: 100 mA, 5 VDC.

Features
G2R-14-12V features: (1)Creepage distance of 8.0 mm min. between coil and contact; (2)Dual-winding latching type available; (3)Plug-in and quick-connect terminals available; (4)High sensitivity (360 mW) and high capacity (16 A) types available; (5)Highly stable magnetic circuit for latching endurance and excellent resistance to vibration and shock; (6)Safety-oriented design assuring high surge resistance: 10,000 V min. between coil and contacts; (7)UL recognized / CSA certified. RoHS Complaint.
Diagrams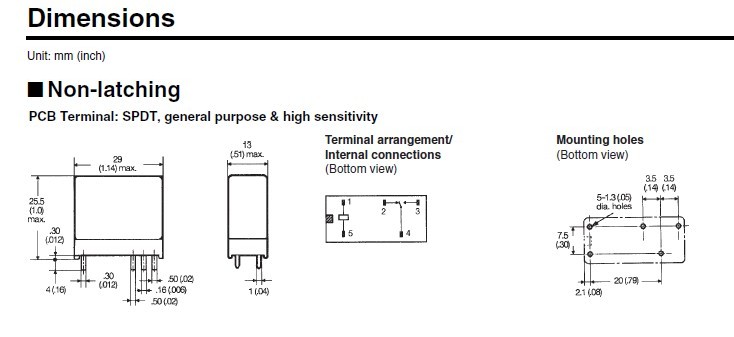 G2R-1A-E DC110

Omron Electronics

General Purpose / Industrial Relays SPST-NO 16A ThruHole 110VDC 22.9K Ohm

Data Sheet



| | |
| --- | --- |
| 0-60: | $5.52 |
| 60-120: | $5.09 |
| 120-240: | $4.73 |
| 240-540: | $4.42 |


G2R-1-AP3 DC24

Omron Electronics

General Purpose / Industrial Relays SPDT 10A 24VDC

Data Sheet



| | |
| --- | --- |
| 0-1: | $4.49 |
| 1-25: | $4.09 |
| 25-50: | $3.74 |
| 50-100: | $3.46 |


G2R-1-AC6

Omron Electronics

General Purpose / Industrial Relays SPDT 10A Thru-Hole 6VAC 16 Ohm

Data Sheet



| | |
| --- | --- |
| 0-1: | $4.83 |
| 1-25: | $4.39 |
| 25-50: | $4.03 |
| 50-100: | $3.71 |


G2R-1A-ASI-DC110

Omron Electronics

General Purpose / Industrial Relays SPST-NO 110V 1FormA Power Relay

Data Sheet



| | |
| --- | --- |
| 0-1: | $5.84 |
| 1-25: | $5.31 |
| 25-50: | $4.87 |
| 50-100: | $4.49 |


G2R-1A4-H-DC6

Omron Electronics

General Purpose / Industrial Relays SPST-NO Thru-Hole 5A 6VDC 100 Ohm

Data Sheet



| | |
| --- | --- |
| 0-1: | $3.52 |
| 1-25: | $3.20 |
| 25-50: | $2.94 |
| 50-100: | $2.71 |


G2R-1A-DC6

Omron Electronics

General Purpose / Industrial Relays SPST-NO 10A ThruHole 6VDC 68 Ohm

Data Sheet



| | |
| --- | --- |
| 0-1: | $2.35 |
| 1-25: | $2.14 |
| 25-50: | $1.96 |
| 50-100: | $1.81 |